After being in the new house a whole week, Rob decided he wanted to smoke something…using his smoker! I bought it for him for this birthday a couple years ago and have learned that there is nothing better than slow cooking a piece of pork in the smoker for 10 hours. So I picked up a pork shoulder and dry rubbed it with my homemade rub (recipe to follow) and at 10ish in the morning, Rob popped it in the smoker.
To make the rub you need:


1/2 cup paprika

1/4 cup brown sugar

1/4 cup crushed peppercorns

1/4 cup salt

3 tablespoons cumin

3 tablespoons chili powder

1 tablespoon red pepper flakes
Mix together and dry rub chosen piece of meat! The longer you let the rub sit, the hotter it gets, so adjust your heat spices accordingly especially if you have leftovers.
After 30mins the meat starts to turn a deep red colour.
Today's menu includes:


Smoked pork shoulder

Roasted fingerling potatoes

Caesar salad

Angel Food Cake with pureed strawberries and cream
You need to pick a piece of meat that is fairly fatty as it cooks all day, you don't want it drying out. It's best to apply the rub the night before for really intense flavour, but an hour or two before also works. Start up your charcoal smoker and get it to around 200 degrees. Rob also uses various woods for the smoking process. Today included a piece of apple wood from my mother's apple tree.
Here are a couple shots after 3 hours, after 8 hours and done after 10!
This is an easy recipe, very simple and absolutely delicious!!! Here's the spread…Caesar salad, pork and fingerling potatoes.
and dessert!
For the potatoes I just added olive oil, salt and pepper, roasted for an hour.
For the dessert, angel food cake (mine was store bought), whipped cream and strawberry puree (strawberries, honey and a bit of apple juice).
I hope you enjoy!
Linked with: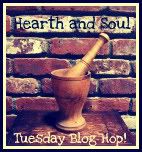 It's a Blog Party